Wet Collodion 19th C. Photographic Process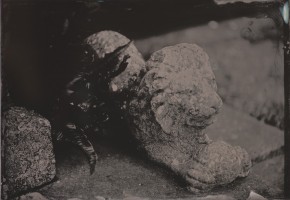 2 Day residential Workshop
Tutor: Gwen Wilkinson,
Golden Fleece Award 2011
Location: Annesbrook, Duleek, Co. Meath
Dates: 23rd & 24th July 2011
Cost: €500 pps €550 single occupancy
Full board (one night at www.annesbrook.com),tuition, chemistry and equipment provided. Each participant will also receive a workshop manual containing formulas, notes on chemical preparation, the wet-plate process and a resources section.
COURSE FORMAT
DAY 1 (Saturday, 23 July 2011) registration 09.30
a. Overview of parts and process, chemicals, equipment needed, organisation, care and maintenance of chemicals. Characteristics of collodion.
b. Health and safety recommendations.
c. Demonstration of complete process. Choosing a simple subject, under natural light, camera will be set up, a glass plate will be poured, sensitised, exposed in camera, developed, fixed and washed.
a. Practice collodion pouring technique using suitable alternative medium.
b. Prepare glass plates, sanding edges and cleaning.
c. Set up cameras and prepare plate holders to make an exposure.
Evening meal followed by optional slideshow giving a brief history of the wet-plate process and contemporary practitioners in the field.
DAY 2 (Sunday, 24 July 2011)
a. Overview of common mistakes and how to correct them.
b. Varnish previous days plates if not already done.
c. Preparation of glass plates.
d. Make plates, individual guidance with wet plate process.
a. Continue making glass plates and possibly tintypes.
b. Experiment making glass plates for use as negatives for printing.
c. Individual guidance with process.
d. Varnish plates and coat reverse side of ambrotypes with black paint if wished.
A deposit of €150 will be required no later than two weeks before the commencement of the course.
If participants require they can book an additional night and evening meal for the Friday directly from www.annesbrook.com 041-9823293
Gwen Wilkinson is a professional visual artist whose primary discipline is photography. For the past three years she has been involved in the exploration of historic photographic processes, specifically the creation of plate photography using the wet-plate collodion technique. In recognition for her work in this field she received the prestigious Golden Fleece Award 2011. Further information about the artist and her work is available at
www.gwenwilkinson.com